COURSE INFORMATION
COURSE INFORMATION
Click here for our Course Schedule
2018 PRICES AT A GLANCE: Basic Bladesmithing R4 750, Full House R8 800, Damascus R5 800, ABS 2-Week R12 400.
2019 PRICES AT A GlANCE:  Basic Bladesmithing R5 900, Full House R9 500, Damascus R6 900, ABS 2-week R14 800.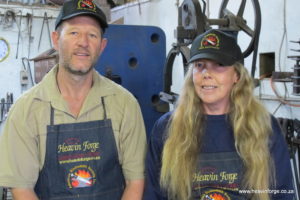 Heavin (Heather and Kevin) have a combined experience of close to 50 years in knifemaking and blacksmithing. We have completed intensive courses with the American Bladesmith Society in Arkansas U.S.A dealing with Bladesmithing and Damascus steel making.  We both have our Master Bladesmith rating with the A.B.S and Kevin has been a member of the Knifemakers' Guild of Southern Africa since 1991 and Heather a member since 2003.  Click here to see a short introduction to our school.
Kevin has been teaching knifemaking for more than 20 years having taught more than 1500 happy students, some of which have gone on to become Guild members  We offer small classes making sure that everyone has personal attention. All the latest techniques are taught as Kevin and Heather attend courses in the U.S.A every few years to refine their skills. Knives and sheaths are not made from a "kit", they are produced individually from raw materials. The courses are very "hands-on", we make a knife alongside you to demonstrate each sequence, you then apply it to your knife. Obviously, we will help you where needed as often this is the first time you would be doing anything like this, but we want you to feel that you have made the knife yourself. We strongly encourage foreign students, however, instruction is given in English, you need to be fluent enough in English to understand technical terms and be able to follow instructions immediately, without holding the rest of the course back. A Skype interview may be required.
Heavin Forge is situated in Belfast, about 2 hours drive East of Johannesburg in the heart of the "Trout Triangle". The school is set in a country atmosphere although we are right on the edge of town on a smallholding.  Hope you like animals! The garden is teeming with dogs, chickens, geese a sheep and pony that will want to share your cookies!
Heavin Forge offers a variety of bladesmithing (not stainless stock removal) and related courses. We will outline a few here that we offer on a regular basis i.e Basic Bladesmithing, ABS two-week Introduction to Bladesmithing, Full House, Damascus Steel Making, and Look and Learn. Contact us if you require information on our other courses that we offer, on request, to past students, i.e. Advanced Bladesmithing, Advanced Damascus and Advanced Blade Grinding. For Stock Removal and Folding Knives Courses, we can refer you to www.herbst.co.za.. Knifemaking is a hobby that can be enjoyed by young and old. We do however feel that students younger than 18 be accompanied by a parent or guardian with 16 years old being the youngest age suitable.  Click here to see past students that made this short video of their course.
Courses are generally three to five days long and the price includes refreshments, materials required on course, a denim apron and course notes.  Please do not bring your wife or family here while on course as we cannot have anyone else in the workshop while you are working.
To view Heather's spark test lesson, click here.
ACCOMMODATION AND SHOPPING
We offer very basic, shared, accommodation on the property in our bunkhouse at R180 per person per night, self-catering. There are two fully equipped kitchens with a small fridge/freezer, microwave oven, slow cooker, small stove/oven and all the cutlery and crockery you will need. There are braai facilities as well as a wood burning pizza oven – bring your own wood. Bedding and towels are provided. Each bed has an electric blanket. Evenings in the bunkhouse can be spent watching our library of knifemaking DVD's.
If you don't wish to stay in the bunkhouse, we recommend that you contact one of the guest houses in the area. Self-catering accommodation in Befast.  Woody's offers self-catering accommodation in town 013 253 0952, woodysplace@mweb.co.za. De Akker Huize, self-catering accommodation, 013 253 0123, cell 072 365 0963. Cozy Moon Overnight Accommodation is just 1.5 kms away from us, self-catering accommodation 082 300 9090 or 082 498 2715, cozymoonbooking@gmail.com. Should you wish to bring your family with you and would like a larger place, consider Van Staden Country Guesthouse 072 145 8142 (3 kms out of town),  and Lakenvlei 013 253 0550, 10 kms outside Belfast is very luxurious also with excellent fishing. There are many accommodation places in Dullstroom which is 30 kms away, please look at the two websites, www.dullstroom.co.za and www.dullstroom.biz for further information.
As far as the workshop goes, all you need to bring with you are clothes that you don't mind getting dirty, preferably cotton clothes for forging and closed comfortable shoes. Jeans or cotton long pants are needed for forging.  Bring warm clothes as it can get very chilly, even in summer!
Please bring your own food as there will be very little time for you to do shopping. If you are a vegan or have any special dietary needs, please bring your own supplies as our town has only very basic shops. If you are flying into Johannesburg and coming up by bus, we will help you with your shopping needs. Our Spar closes at 6 pm during the week and 1 pm on weekends.
Belfast has a few takeaway places in town.  Kentucky Fried Chicken and Steers are at the Shell garage in town as well as a Wimpy on the N4.  Dullstroom is only 30 kms away with a variety of good restaurants.
If you would like to catch a bus from the O.R Tambo airport or Lanseria airport, please phone Lime Time Shuttle on 086 999 0978 or City Bug on 013 753 3392. They stop at the Engen/Wimpy on the N4. and we can collect you from there. We can collect you and help you with transport for your shopping.
WHAT TO EXPECT WHILE ON COURSE
Our courses run from 7:30 am Wednesday for our 5-day courses, or 7:30 am Friday for our 3-day courses, to Sunday lunchtime.   The lunch break is only half an hour, so come prepared as there will be no time to pop into town for lunch.  We have a well-stocked knifemaking video library and you are welcome to spend the evenings watching them in the bunkhouse.  We have a generator in case ESKOM lets us down, we can at least carry on working! Each day is very long with us working 10 to 12 hours a day, so be prepared and please be prompt! Oros and water is always available and we have coffee/tea/cooldrinks with biscuits/rusks/cake twice a day.
Information on where to obtain knifemaking supplies and equipment is provided. Please do not think that our help ends at the completion of your course. We are always available to answer any knifemaking questions and help you in any way we can. Certificates are provided to students completing the course.
BASIC BLADESMITHING COURSE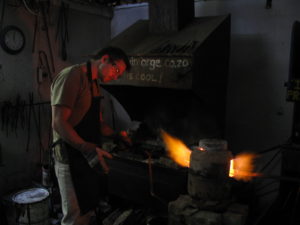 Bladesmithing is the historical and traditional way of knifemaking by bladesmiths using high carbon steels. Utilizing hammer, fire and anvil a knife will be made proceeding from design, forging, heat-treatment, grinding, polishing, handle, leather sheath making and sharpening. You will come away with your own hand-forged knife and sheath as well as the knowledge to make more. (The bug will have bitten!). You do not have to be big and brawny to do this course! You will make a knife that is worth more than R2 000 on this course.
Pupils per course – 4
Cost:  2018 price R4 750 (2019 – R5 900) per person. A nonrefundable deposit of R1 500 per person to secure your booking.
Duration: 3 Days.
Bunkhouse: R180 per person per night self-catering
INTRODUCTION TO DAMASCUS STEEL MAKING COURSE (not a scheduled course – organised on demand)
You have to have completed the Basic Bladesmithing or ABS Intro to Bladesmithing course with us as the fundamentals of forging and heat -treating high carbon steels are covered in it, and this experience is required for making a damascus knife. This course includes material selection, preparation, lamination (forge-welding), patterning, forging to knife shape, grinding, heat-treatment, polishing and etching. The knife is completed to a stage where the maker can fit a handle at a later stage or an integral knife is made. Handle and sheath making was covered in the previous Intro to Bladesmithing course. Work is done using a high-temperature gas forge and the "Iron Maiden" power hammer. You come away from this course (hot and sweaty!) with the knowledge of making basic traditional folded damascus steel and how to turn it into a stunning blade. You will make a damascus steel blade on this course that is worth more than R2 900. Not suitable for people who are allergic to nickel.
If you would like to do this course, please contact us, as it is not a scheduled course and can be organized on dates to suit people who have completed the Basic Bladesmithing or ABS Introduction to Bladesmthing course.
Pupils per course – 3
Cost:  2018 price R5 800 (2019 – R6 900) per person. A nonrefundable deposit of R1 500 per person to secure your booking.
Duration: 3 Days.
Bunkhouse R180 per person per night self-catering.
WHAT IS DAMASCUS STEEL?
Over 2000 years ago man needed to create a strong steel. This he did by forge-welding and folding high and low carbon steels at high temperatures to create a steel that was flexible but hard enough to hold an edge. The pattern in the steel can be manipulated and is brought out by etching the steel in acid. Damascus steel was perfected by the Japanese and Vikings and it was believed to have magical properties. There are very few bladesmiths who make their own damascus steel these days and it is a rare and collectable material usually used for knife blades.
BLADESMITHING – FULL HOUSE COURSE – our most popular course.
For those wanting to cover the most comprehensive course in forging knives and damascus in the shortest space of time. This course covers all that you would learn on the Basic Bladesmithing course as well as the Introduction to Damascus course at a much-reduced price. You will make a carbon steel knife and sheath worth over R2 000 and a damascus steel blade worth over R2 900. Not suitable for people who are allergic to nickel.
Pupils per course: 3
Cost:  – 2018 cost R8 800 (2019 – R9 500) per person. You save R1 750 per person by doing the Full House 5-day course as opposed to doing the two courses separately. A nonrefundable deposit of R1 500 per person to secure your booking.
Duration: 5 Days.
Bunkhouse R180 per person per night self-catering.
LOOK AND LEARN COURSE (Not a scheduled course, organised on demand)
A course very popular with collectors and other people interested in seeing if they might enjoy taking up the hobby. Follow the process of a knife being made using either the stock removal or forging method from start to finish in one day. A full tang knife is made in front of a group not exceeding eight in number. Follow the method used, take notes, ask questions and learn. Lunch and refreshments are provided.
If you wish to do this course, please contact us, as it is not a scheduled course and can be done on almost any day that suits everyone.
Pupils per course: 4 to 8
Starting time: 8 am – finishing at approximately 5 pm
Cost:  2018 cost R1 000 per person. A nonrefundable deposit of R500 per person to secure your booking.
AMERICAN BLADESMITH SOCIETY APPROVED TWO-WEEK, INTRODUCTION TO BLADESMITHING COURSE
Pupils per course: 6
Duration: 2-weeks, 7:30 am to 5 pm
Accommodation:  room for 6 in our bunkhouse at R150 (2019 R180) per person per night, self-catering, or other guest houses in the area.
Cost:  2018 price R12 400 (2019 – R14 800) per person.
Deposit: Non-refundable R2 000 per person to secure your place. Balance to be paid a month before the course starts.
For anyone, beginner or advanced, who is serious about their Bladesmithing. Particularly important for ABS Apprentice Smiths wishing to submit their knives for ABS Journeyman Smith evaluation, as attending the course, cuts one year off their three-year apprenticeship. Great course for stock removers who want to branch out into forging knives.
Recognised by the American Bladesmith Society, this course is presented by the only two ABS Master Bladesmiths on the African continent, husband and wife team, Kevin and Heather Harvey. There are 7 ABS recognised schools in the world. Five ABS schools are in the U.S.A, one in Belgium and Heavin Forge in South Africa. This is an intensive two week, eighty hour, hands-on course which covers all aspects of forging, grinding, heat treating and sharpening blades. One blade will be used to do the (unofficial) ABS Journeyman performance (cut and bend) test at the end of the course. This test is also required if submitting forged blades for evaluation to gain entry into the Knifemakers' Guild of Southern Africa.
Kevin and Heather have taught this Introduction to Bladesmithing course a number of times at the Bill Moran School of Bladesmithing in Old Washington, Arkansas, U.S.A. They endeavour to impart their knowledge and love of the forged blade to their students. Numerous different forged blade shapes are taught to educate the students as to the many varied ways of forging, heat treating and grinding.
We try to finish 3 to 5 blades to a point where they can easily be finished at home after the course and sold. The sale of these knives should easily cover your course fee.
Lectures are given each day on subjects covering how to select your steel, designing knives, safety in the workshop, the safe use of gas forges, blade geometry, heat treatment, grinding, hand finishing, filing, forging unusual shaped knives/weapons, forging other metals, the business side of knifemaking, the ABS and KGSA testing and much more.
Evenings will be spent watching ABS forging DVD's. Each student is entitled to take home his finished blades to complete at home. This course does not cover handles, guards and sheaths, for this reason, we suggest students stay on for the 5-day Handles, Fittings and Sheaths course often held the week after the ABS course.  A certificate will be issued at the end of the course.  Kevin and Heather have a vast library of knifemaking/Bladesmithing/blacksmithing books and videos which can be read/viewed while on course.
Comprehensive notes are provided as well as a denim apron, safety glasses, leather gloves, a simple face mask, tin of Harveys Conservation Wax and all consumables. Tea, coffee, cool drinks and biscuits/rusks are provided.
Heavin Forge offers shared, basic, self-catering accommodation in their bunkhouse. Six people can be accommodated. All bedding, towels, cutlery, crockery etc. is provided. The bunkhouse has a fully equipped kitchen, three bedrooms, a bathroom with shower and toilet and a separate toilet. Braai (barbeque) facilities, as well as a wood-burning pizza oven, are available for use. There are heaters in each room as well as electric blankets on all beds for our cold winter nights. Open parking within the garden is provided.
A shuttle bus runs five times a day between O.R Tambo airport in Johannesburg and Belfast (a two-hour trip). We can collect you from the bus stop and organise to do your grocery shopping if you come by bus. If you are here by car and stay the weekend, we can help organise a few fun activities in the area such as whisky tasting, a visit to our micro-brewery in Dullstroom – Anvil Ale, fly-fishing, horse riding, clay-pigeon shooting, archery, hiking or game viewing. If you are coming from overseas, we strongly suggest that you include a holiday to the Kruger National Park, just three hours away from us as well as sightseeing in the area or a visit to the Kingdom of eSwatini, just two hours away from us. If you wish to plan a safari please contact us and we can put you in contact with the right people.
SOME COMMENTS FROM STUDENTS WHO HAVE ATTENDED THE 2-WEEK ABS COURSE
"Kevin and Heather are excellent teachers"
"A great course and very confidence inspiring. Very happy and inspired."
"Educated and thorough instruction with a vast library of information. Well worth the time and effort. Thanks!"
"Thank you for this opportunity and your investment in my future."
"It was a great privilege to have been under your expert and inspiring teaching. Two weeks of so much, is more than anyone can expect. Thanks so much for the realization of a dream."
"I guess if you are reading this you have made the decision to invest in your own future. Well done!"
"I came excited and am leaving inspired."
"I was there recently for two weeks on the ABS Introduction to Bladesmithing course. I had such a comfortable stay and learnt a lot of new things. The instructors heather and kevin harvey were wonderful, kind and helped me get through the course. Initially being an international student I was skeptical about the programme but the instructors took extra care in teaching me and making sure I understand the lessons. They have a well equipped spacious workshop that complements the course. There is a safe bunk house available inside the property with all essential facilities that made our stay easy. The property itself if very beautiful and soothing in a way. If you are hoping to learn about bladesmithing without a doubt this is the place to be. I would definitely go back to heavin forge for a another lesson. They also make custom knives and beautiful damascus rings that is available for sale."
HANDLES, FITTINGS AND SHEATHS COURSE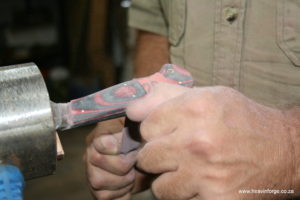 You have to have completed one of our other courses first. This course offers you the chance to learn how to fit handles, guards and bolsters to your blades as well as how to make a sheath. We find that a lot of our students either don't have the facilities or know how to complete their knives once home, especially the students from our 2-week ABS course who have only made blades, no handles and sheaths, as done on our other courses. Lectures will include handle construction and design, stabilizing bone and wood, finishing handles with gunstock oils etc.
You are required to bring one or two finished blades with you, either made at home or on a previous course with us as well as your handle, guard/bolster and pinning materials if using anything other than standard wood, brass and nickel silver, which will be provided. Some limited fancier materials will be available here to purchase. We will supply basic sheath leather but any exotic leathers must be brought with you. The projects tackled by each participant might be different and we feel those attending will learn from each other too.
Pupils per course: 4
Cost: 2018 R7 400 (2019 – R8 800) per person.  A nonrefundable deposit of R1 500 per person to secure your place.
Duration: 5 days
Accommodation in the bunkhouse at R150 (2019 – R180) per person per night self-catering.
SPECIAL PROJECT BOWIE BUILD 4-day course
Pupils per course – 4
Cost: 2018 price R6 800 (2019 R8 000) per person.  A nonrefunable deposit of R1 500 per person to secure your booking.
Duration: 4 days.
Bunkhouse R180 per person per night, self-catering.
You need to have completed any of our other courses to qualify for this course. It will be assumed that you have basic bladesmithing skills such as forging, grinding, handle fitting and heat treatment concepts and have done some bladesmithing work of your own at home.
Forge a classic Bowie knife under the expert guidance of Mastersmith, Kevin Harvey, who specializes in and loves this style of knife.
On this course, you will make a Bowie with a blade length of at least 10″ (250mm). We will include differential heat treatment of the large blade of 1070 carbon steel. This steel responds well to an edge quench or Japanese style clay hardening.
The handle construction will be built on a narrow tang and you will be allowed to use multiple segments for the guard and ferrule assembly, located together with dowel pins. The handle material will be provided and will be a special block of attractive wood. You are welcome to bring your own special piece of wood if you prefer.
Advanced techniques such as sculpted guards and frame tang construction may be used, if your knifemaking is at a stage to push your comfort zone.
The history of the man, Jim Bowie and his famous knife will be discussed. The theory and Kevin's design consideration will be shared, to ensure a strong, functional knife with superior balance and aesthetics.
We will not have time to cover any leather work. If you would like to learn sheath making, consider doing the "Handles, Fittings and Sheaths" course.
PAYMENT AND BOOKING
There is a nonrefundable deposit of R1 500 (R2 000 for the ABS course) per person to secure your place on a course, this deposit is not transferable if you cancel your course and wish to rebook new dates. The balance is payable in cash or internet transfer on or before arrival for your course or a month beforehand for the ABS course, please no cheques or credit card payments. We will not commence with teaching until you have paid in full. Please organize this payment well in advance to avoid embarrassment. Please phone to confirm course dates before filling in and sending your Course Booking Form and proof of deposit payment to us. We will give you our bank account details when you phone or e-mail heavin@heavinforge.co.za to confirm course dates – to avoid double bookings. The course booking form is available to download here Course Booking Form.
CANCELLATION POLICY
Your booking deposit is nonrefundable and cannot be transferred to another class date. Notice of cancellation must be done no later than one month prior to the date of the start of the class. Refunds (less deposit) can only be made after that date if a replacement student fills the vacancy. No refunds will be given if a student withdraws once the class has begun.
FREQUENTLY ASKED QUESTIONS
What do I need to bring with me?
If you are staying in self-catering accommodation, you will need to bring all your own food, we do have a Spar supermarket in town.  Please bring closed shoes for forging in and cotton clothes that you don't mind getting dirty. Warm clothes are a must at any time of the year. Bring a camera with you if you like, but no video cameras please, there will be no time to film.
What sort of people do the courses?
We have had people from all walks of life do the course, male, female, professionals, school leavers and retired people looking for a hobby. Whether you wish to spend a few days bonding with your family, wish to learn a new hobby, want to make a one-off knife for your hunting trip or learn to be a full-time knifemaker or are a knife collector wanting to learn more about the process of hand made knives, these courses will set you on the right track.  Even if you have never worked with hand tools before, you will be able to make a knife that you will be proud of, under our supervision.
Will I manage the course?
Please do not book these courses unless you are 100% interested in knives, don't come on the course because you showed a little bit of interest in "Ninja" swords and your mom wants to send you because you have no other interests – stick to computer games. You need to be able to work physically hard all day with the concentration to match as we use potentially very dangerous machinery. You need to be able to follow instructions and be a problem solver. We don't want to put anyone off doing the courses, but we do want you to realize that this is not a gentle weekend of "scapbooking"! You do not need to be big and strong and experienced with tools, but you do need to have sufficient intellect and enthusiasm to succeed.
SOME COMMENTS FROM STUDENTS – feel free to phone them, they are a friendly bunch!
"Better than a holiday! The perfect father-son bonding experience." Rudi Viljoen, Tzaneen, Limpopo, 082 802 0880. Full House Course.
"Coolest course I have ever done!" Ruan Viljoen, Tzaneen, Limpopo, 083 706 9560. Full House Course.
"Jonathan and I did the Look and Learn course a while back now … You were all amazing! The course content was fascinating and we could see the incredible talent in each of you BUT at no point felt that the basic skills were unattainable. That counted most for me because I really believe that the next course will equip us to be able to make a knife … the level of art and creativity practised by you all may even be within reach one day!" Deon and Jonathan Grove, Hoedspruit, 082 685 7272. Look and Learn Course.
"Me and my son attended both the basic and damascus courses at Heavin Forge. We found it extremely practical and enjoyable. We are now able to make a knife by ourselves with confidence. Kevin and Heather are very approachable people and we have regular contact with them. Their help and advice is an invaluable backup. I would highly recommend their courses to anyone with a keen interest in forged knives." Dr Thys Geldenhuys, Pretoria, 082 449 4076. Intro to Bladesmithing Course and Damascus Course.
"We were three people on the Introduction Course, with varying levels of technical ability. What really amazed me is that everyone, no matter what your technical ability may be, will walk away with a stunning knife after this course and be able to create more of these themselves.  have been a big fan of knives all my life, but after this course for the first time can I really appreciate the art of knife making. Kevin is an extremely good trainer, not to mention the patience he had to have with our group. I would highly recommend this course to anyone who is interested in knives, and please don't let a lack of technical ability put you off – anyone will make a stunning knife on this course." Emile van Zyl, 082 335 3830.
"My partner and I flew from Cape Town to do the 'full house' course and it was well worth it, he thoroughly enjoyed it and I can truly recommend this course to all females. I have never done anything remotely like this before, and walked away having made two stunning knives. You do not have to be a big burly man to do this and the sense of accomplishment is all that much more if you are not. Heather is a great inspiration, and Kevin's fantastic teaching ability will allow you to feel capable and realize technique gives you way more than strength ever will..and there is always a helping hand if necessary. Safety equipment will keep softer skins intact, while allowing the feminine creative to pour out into a dazzling piece of art, which you can use on a daily basis, whether in the kitchen or in the garden. The studio stands in a beautifully romantic setting surrounded with horses, so don't be afraid, and try something new today!" Jemima Goosen, Cape Town
__________________________________________________________
MEET YOUR INSTRUCTORS
KEVIN AND HEATHER HARVEY
Multiple award-winning American Bladesmith Society Master Bladesmiths. Kevin has been teaching knifemaking since the early 1990's. Heather has been teaching bladesmithing since 1999. Both are members of the Knifemakers' Guild of Southern Africa. Heavin (Heather and Kevin) own Heavin Forge Bladesmithing Studio and School. Heavin have taught bladesmithing at the Bill Moran School of Bladesmithing in Arkansas, U.S.A and their school is the second only school outside of the U.S.A to be certified by the American Bladesmith Society to present the 2-week ABS Introduction to Bladesmithing course.
Kevin and Heather have presented many weekend bladesmithing seminars both in South Africa and the U.S.A.