Our Courses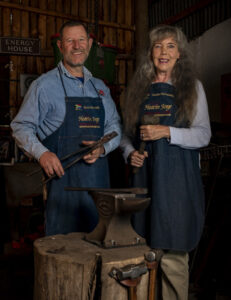 Heavin (Heather and Kevin) have a combined experience of close to 60 years in knifemaking and
blacksmithing. We have completed intensive courses with the American Bladesmith Society in Arkansas U.S.A dealing with Bladesmithing and Damascus steel making.  We both have our Master Bladesmith rating with the A.B.S and Kevin has been a member of the Knifemakers' Guild of Southern Africa since 1991 and Heather a member since 2003.
We are both accredited instructors with the American Bladesmith Society.  There are only 30 ABS Mastersmith accredited instructors in the world, Heather and Kevin being two of them.  Please check out the ABS website for more info on what it means to be an accredited instructor here https://www.americanbladesmith.org/master-bladesmith-instructors/ 
Our courses: scheduled and on-demand - There are two ways of entering a course at Heavin forge. You can join individually any course that we have scheduled. Or you can contact us as a small group (from 3 people up) for one of the courses we have 'on-demand'. Please check the Course Schedule in our menu to see the availability for both types of courses.
If you cannot physically come to the course, you can always enroll in our online school where we have free and paid-for content.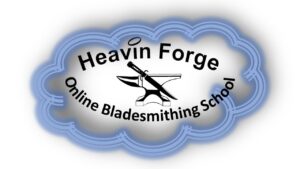 https://heavin-forge-online-bladesmithing-school.teachable.com/courses 
Courses in South Africa - If you are wanting to do a knifemaking course in South Africa, (bladesmithing or stock-removal), we strongly recommend that you only get instruction from Knifemakers' Guild of Southern Africa members, with a track record of teaching and experience, please look at www.kgsa.co.za/South-African-Knifemakers-Guild-Courses  for more information on instructors other than ourselves.  There are some "fly-by-night", inexperienced knifemakers offering courses, that might not meet your expectations.
Kevin has been teaching knifemaking since the early 1990s. Heather has been teaching bladesmithing since 1998. Heavin have taught bladesmithing at the Bill Moran School of Bladesmithing in Arkansas, U.S.A and their school is the second only school outside of the U.S.A to be certified by the American Bladesmith Society to present the 2-week ABS Introduction to Bladesmithing course. Kevin and Heather have presented many weekend bladesmithing seminars both in South Africa and the U.S.A.  Click here to see a short introduction video to our school.
Trout Country - Heavin Forge is situated in Belfast, about 2 hour's drive East of Johannesburg in the heart of the "Trout Triangle". The school is set in a country atmosphere although we are right on the edge of town on a smallholding.  Hope you like animals! The garden is teeming with dogs, chickens, geese a donkey, and a pony that will want to share your cookies!
Bladesmithing - Heavin Forge offers a variety of bladesmithing (not stainless stock removal) and related courses. We will outline a few here that we offer on a regular basis i.e Basic Bladesmithing, ABS two-week Introduction to Bladesmithing, Full House, Damascus Steel Making, and Look and Learn. Contact us if you require information on our other courses that we offer, on request, to past students, i.e. Advanced Bladesmithing, Advanced Damascus, and Advanced Blade Grinding. For Stock Removal and Folding Knives Courses, we can refer you to www.herbst.co.za..
Knifemaking is a hobby that can be enjoyed by young and old. We do however feel that students younger than 18 be accompanied by a parent or guardian with 16 years old being the youngest age suitable.
Click here to see past students that made this short video of their course.
Courses are generally three to five days long and the price includes refreshments, materials required on the course, a denim apron, and course notes.  Please do not bring your spouse or family here while on course as we cannot have anyone else in the workshop while you are working and the day in the workshop is between 10 to 12 hours each day.
Information on where to obtain knifemaking supplies and equipment is provided. Please do not think that our help ends at the completion of your course. We are always available to answer any knifemaking questions and help you in any way we can. Certificates are provided to students completing the course.