Heather Harvey
American Bladesmiths Society Master Bladesmith
Member: Knifemakers' Guild of Southern Africa
Founder Member: Southern African Bladesmiths Association
Qualified Blacksmith:  Metal and Engineering Industries Education and Training Board
American Farriers Association Certified Farrier
ABS certified instructor
I always wanted to be a veterinarian but was always allergic to fur and feathers.
I was not allergic to horses, and I loved them, so at a very early age, I decided to become a farrier, much to my mother's horror!    When I finished school I was already trimming my ponies' feet and all my friend's horse's feet.  I had worked with a farrier part-time during weekends and school holidays since I was 15 years old but realized that I needed further training.  I went to the U.S.A and attended the Montana State University Horseshoeing School in 1983, qualified as a Certified Farrier with the American Farriers Association, and returned home to start my own business at the tender age of 19.

Watch Heather's Gold Reef City Slide show After spending a few years shoeing 300 horses a month I developed a very bad allergy to horses.  Ironic.  I had to give up my career and then turned to blacksmithing, joining Gold Reef City, a working museum depicting Johannesburg 100 years ago as a gold rush town.  I mainly did decorative wrought-iron work until I tried my hand at making damascus in 1995.  I believe damascus to be the ultimate in the blacksmith's art and once I had made a few pieces, I was hooked, I wanted to do nothing else...... until I made my first knife in 1997!  I then had found the absolute best - making your own steel and forging a knife from it! While at Gold Reef City I also had the experience of working in their circus!
Working at Gold Reef City was fun and I even got to rob the steam train on horseback occasionally!
There were no knifemakers forging knives in South Africa and no one making traditional folded damascus.
I had no one to turn to for help so I decided to go to the American Bladesmith School in Old Washington, Arkansas to attend their Introduction to Bladesmithing and Damascus courses in 1998.  I was lucky enough to receive the Blade Magazine Scholarship for the Introduction course.  Kevin Harvey, my husband, attended the classes with me and we both came away enlightened and so enthusiastic about forging knives that we, together with Bertie Rietveld and Tom Nelson founded the Southern African Bladesmiths Association (S.A.B.A, pronounced sabre).
I loved experimenting with different damascus patterns. I used to make knives from my own damascus and  I especially enjoyed making replicas of traditional African weapons and primitive knives.  I can no longer make knives as I have permanent injuries to both my hands which forced me to retire from bladesmithing in 2013.  Not workshop-related injuries but livestock-related.  I can assist Kevin with instruction on the 2-week ABS course but the rest of my time is spent doing admin.
Kevin and I helped to draw up a marking schedule to be used by the Knifemakers' Guild of Southern Africa's evaluation committee in order to allow forged knives to be recognized and for people to attain guild membership by submitting forged knives. In 2003 I was the first person to pass their Guild evaluation using forged blades.  Kevin and I both became Master Bladesmiths at the Blade Show in Atlanta, U.S.A in June 2003. I was the second lady Master Bladesmith in the world, (there are now five of us). Kevin and I were the first married couple Master Smiths (Haley and Adam DesRosiers are now the second) and two of three ABS Mastersmiths on the African Continent.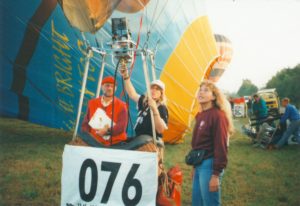 I used to have my license to fly hot-air balloons and got to take part in the 1993 World Hot Air Balloon Championships in Luxembourg as the navigator for the ladies' South African team.

Watch the Slide show Horses & Tigerfish I am passionate about horses and have passed my Module 1 and 2 EQASA (Equestrian Qualifications Authority of Southern Africa) exams.  I still ride whenever I can and love training my horses to do tricks.  Bowie the Brilliant, did more than 40 tricks and Valient the sheep did 10.   Sadly Bowie died in 2019 and Val was stolen in 2020. I love fly fishing and collecting and using side-saddles.
Moving to Belfast and combining our workshops has been the most wonderful experience.  To leave the stress of city life for the tranquillity of country living has been the best decision we have ever made.  Our creativity and productivity increased tenfold and having my horses with me all the time has made my life complete.  I'm sure even the horses are glad to be out of the city.
Heather's assegai on the cover of the book "The Boy Called Trouble Maker" by Ellie Crowe. A book about Nelson Mandela's childhood.
African weapons I forged from damascus steel, have been used on three book covers.