Kevin Harvey
American Bladesmiths Society (ABS) Master Bladesmith
Member: Knifemakers' Guild of Southern Africa
Founder Member: Southern African Bladesmiths Association
The current chairman of the Knifemakers' Guild of Southern Africa.
Mechanical Engineering Diploma
Qualified Fitter Machinist
ABS Certified Instructor
My interest in knives began at the age of 12. I was introduced to the craft by my Grandfather who made knives as a hobby. The knifemaking bug bit me hard and I have never been able to give up the habit. Sounds like an addiction? It is! Knife lovers will understand and forgive me!
I completed a diploma in mechanical engineering and worked in a dynamite factory serving my apprenticeship as a fitter-machinist. I was accepted as a member of the highly respected Knifemakers' Guild of Southern Africa in 1991. I am also a Master Bladesmith with the American Bladesmith Society and a founder member of the Southern African Bladesmiths Association.  I am currently the chairman of the Knifemakers' Guild of Southern Africa.
My full-time knife career began in 1996 at Gold Reef City, (a re-creation of Johannesburg as a mining town 100 years ago). Here I met Heather, my wife, and we went on a course together at the Bladesmithing School in Arkansas U.S.A in 1998 to learn bladesmithing and damascus steel making.
My knives are tested in the field as I enjoy camping, and the outdoors, especially fly fishing. Africa is a tough place to test knives!
We both love fly fishing and decided to combine our workshops and move to the country. Here at Heavin (Heather and Kevin) Forge in Belfast, only 2 hours east of Johannesburg, we can concentrate on making the most spectacular knives and have started a knifemaking school, presenting a variety of courses.  I am passionate about teaching and understand the importance of keeping the art of the forged blade alive.
Highly collectible art knives are my specialty. I make my own damascus steel and do both forged and stock removed blades. Africa offers some of the most beautiful handle materials in the world and I use hippo, warthog, indigenous hardwoods, leguaan skin, crocodile, catfish fish skull, and any interesting horn or bone available. The knives I make are part of me, I love designing knives and reading every knife publication I can lay my hands on. Inspiration is everywhere!  I am particularly fond of making Bowie knives.
I do all my own engraving and embellishment.
My knives are sold from our showroom at Heavin Forge and from www.BladeGallery.com. I attend foreign shows as well as our annual Knifemakers' Guild of Southern Africa show. Please look at my "Knife Gallery" to view a few of my favorite knives that I have made and sold.
I have been honoured to have won numerous awards both locally and internationally, you can see them here.
In 2015 I made the International Mastersmith knife, and donated it to the American Bladesmith Society to auction off to raise funds for the ABS schools.  Click here to see how that challenging knife was made.
I had my own anvils cast from a mould that I made.  Ideal size for bladesmiths and farriers weighing in at 35kgs.  Limited run of 12, so they are collector's pieces! These anvils are now being produced in conjunction with Dennis Kriel from Drakon Forge in Pretoria.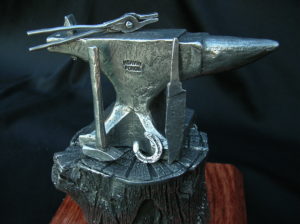 A few years back, for the fun of it, I carved a miniature bladesmithing set and had it cast in pewter.
If you would like to see me shaving with one of my Bowie knives, please click here. The "SWAB" (Shave with a Blade) challenge was to raise money for our niece, Michaela Shoebotham, for her stem cell transplant.  Sadly Michaela passed away on 29 February 2020.