About our Knives

The logos on our knives
When a knife is made entirely by Kevin Harvey it is marked, "Kevin Harvey, M.S.", the M.S. stands for Master Bladesmith, the highest rating in the American Bladesmith Society.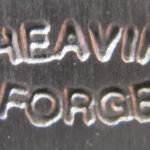 If the knife is marked "Heavin Forge" it means that it was made by Kevin Harvey while teaching a class at Heavin Forge.  This will be the knife made alongside students by Kevin demonstrating each step in the bladesmithing process.
Sometimes a knife stamped "Heavin Forge" might also have been made in collaboration with our part-time intern, Jean Wilke.  Jean is the youngest member of the Knifemakers' Guild of Southern Africa and a member of the Cape Knifemakers Guild.  He is also an American Bladesmith Society Apprentice Smith.  Jean attended the 2-week ABS Intro to Bladesmithing course along with the Handles, Fittings and Sheaths course with us when he was just 15 years old.  He is a full-time bladesmith in Pretoria and works between his shop and ours as he doesn't have a power hammer or damascus forge in his own shop.
Jean assists with the instruction on our 2-week ABS Intro to Bladesmithing course and our Handles, Fittings and Sheaths course as well as teaching bladesmithing at his home forge.
Contact Jean via Facebook https://www.facebook.com/jean.wilke.12 
What makes our knives special?
We would like to point out why our knives are highly collectable and what sets them apart from other knives. Each knife we make is a once-off creation, we don't work from templates or laser cutouts or make use of CNC machinery. The knives never leave our workshop, every step of their creation from the initial forging, heat treatment, hand embellishment and leatherwork is done with our own hands. We pay particular attention to the smallest detail and take great pride in always making the best knife that we can possibly make. This does make our knives more time consuming to produce, but you get a unique, lovingly created investment that should last generations. Our knives are superior tools, not wall hangers and are tested for performance regularly. Spending years striving towards achieving our certifications with both the American Bladesmith Society as Master Bladesmiths as well as the highly respected Knifemakers' Guild of Southern Africa, is proof that our work has been recognized and commended by our peers. A few aspects that make our work distinctive are the pleasing artistic lines, ergonomically sculpted handles, typical forged blade geometry's featuring flat ground bevels, distal tapers and convex cutting edges, differential heat-treatment (hard edge, tough spine) as well as balance and scary sharpness. All our money earned is put back into our workshop as well as into learning new skills to better enhance our art. We will never be rich but we are passionate about our craft, share our knowledge willingly, encourage new bladesmiths and are all about, "making a life, not making a living". This is not a job, it is a passion.
Part of the money we charge per knife goes into hand-cleaner and band-aids! Working your fingers to the bone is what knifemaking is all about. Each knife takes a little bit of our soul, skin, a bit of blood, a lot of sweat and hopefully no tears! Don't worry, we clean our blades before we sell them and we wash our hands before eating! The next time you attend a knife show, have a close look at the maker's hands.
Our wish is that when you buy a knife from us, that the knife serves you faithfully and will be in your family for many generations.  Don't just buy the knife for yourself, consider it as a family heirloom.  All knives come with a "Certificate of Origin".
What it means to be a member of the Guild and to be ABS Master Bladesmiths
What makes our knives highly collectable is the effort we have gone to, to get the highest possible international ratings. The ratings we have achieved are from many years of hard work, testing and evaluation by our peers, they are not just clubs that we belong to, we have had to prove that our work is of the highest standard in the world.
To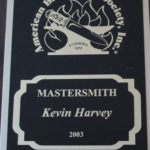 become a member of the Knifemakers' Guild of Southern Africa requires you to submit 5 knives for evaluation by three Guild members. If your work is of a high enough standard you will be awarded your Guild status. It is not just a knife club that anyone can join. The standard of work by our Guild members in South Africa is highly regarded by overseas collectors. Please look at the Guild website for more information, www.kgsa.co.za.  Kevin and Heather are members of the Knifemakers' Guild of Southern Africa.  Kevin is the chairman at present.
To become a Master Bladesmith requires a total of at least 5 years of apprenticeship and journeymanship. First, there is a three-year apprenticeship with the American Bladesmith Society before you can do your cut and bend test which requires you to cut through a 1", free-hanging sisal rope with one swipe, cut through a 2"x 4" pine beam twice and without sharpening your knife you must still be able to shave arm hairs. The last test is to put the knife in a vice and bend it to 90 degrees without it breaking. You have to pass this test with a 10" knife that you have forged and finished yourself from carbon steel. You then have to submit in person 5 knives to a panel of judges at the annual Blade Show in Atlanta U.S.A. If your work is good enough and you passed the cut and bend test you will get your Journeyman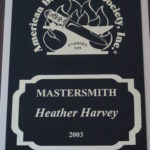 Smith rating. Two years after being a Journeyman you can do the cut and bend test again with your own damascus knife and submit 4 damascus and carbon steel knives along with a set-piece damascus quillion dagger, in-person to another panel of judges at the Blade Show in Atlanta and if your work is of exceptional quality you will receive your Master Bladesmith rating. There are only around 110 Master Bladesmiths in the world. For more information on the American Bladesmith Society please look at their website, www.americanbladesmith.com. Kevin and Heather are two of only three Master Bladesmiths on the African continent and the second married couple Master Bladesmiths. Heather was the second lady Master Bladesmith in the world, there are now four.
To view Kevin bending one of his forged knives, multiple times, please click here.
To watch ABS Journeyman Smith, Neels van den Berg passing his performance test click here.  Neels attained his Mastersmith rating in 2022!
The meaning of handmade
"When you buy from an independent artist you are buying more than just a painting or a novel or a song. You are buying hundreds of hours of experimentation and thousands of failures. You are buying days, weeks, months, years of frustration and moments of pure joy. You are buying nights of worry about paying the rent, having enough money to eat, having enough money to feed the children (horses), the birds, the dog. You aren't just buying a thing, you are buying a piece of heart, part of a soul, a private moment in someone's life. Most importantly, you are buying that artist more time to do something they are truly passionate about; something that makes all of the above worth the fear and the doubt; something that puts the life into the living." Rebekah Joy Plett.
"It is a tragedy of the first magnitude that millions of people have ceased to use their hands as hands. Nature has bestowed upon us this great gift which is our hands. If the craze for machinery methods continues, it is highly likely that a time will come when we shall be so incapacitated and weak that we shall begin to curse ourselves for having forgotten the use of the living machines given to us by God."
Mahatma Gandhi